PDF Unlocker Free - A tool to Unlock PDF Files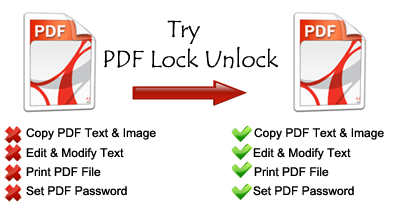 Eager to know that how to Unlock PDF Files? Then try PDF Unlocker Free Utility Tool (evaluation copy) which is one of the marvelous Software that allows users to unlock PDF restrictions of copying, editing, extracting text, printing to secure PDF Files. This utility is simple to use, reliable and competent enough that gives 100% results by allowing users to remove owner password from secured PDF so as to enable copy, print, edit, and write comments on PDF Files. This is one of the highly advanced PDF Unlocker tool so that it would be easy for you to Unlock PDF restrictions from your locked/Secured Adobe PDF Files.
How do I unlock PDF Restrictions?
Sometimes, there is question arises in users mind that how do I unlock PDF Password? At that time use PDF Unlocker tool that helps you to unlock PDF files efficiently and effectively. This utility is compatible with all the Windows and removes password both from PDF Files and its documents within few minutes. You can try our Free PDF Unlocker utility by using Demo version facility which is available on our site. The software smoothly runs on all the Windows like Window vista, XP, 7, 2003, 2000, NT, ME 98.
Dominant Features of our PDF Unlocker Product are:
This utility helps you to remove PDF restrictions of copying, editing, modifying, extracting text and printing unlocked from secured PDF files.
This software is specially designed to unlock Owner Password only.
Simple and Easy to use and support with easily understandable GUI, PDF Unlocker enables each and every user to remove PDF restrictions from secured PDF file.
It automatically creates new PDF file, with the new file which is renamed with the prefix "unlocked" after removing all PDF restrictions.
Quickly Download our Free Trial Version:
We are providing you the PDF Unlocker Freeware utility which is efficient enough for solving your problem within just few minutes. So don't wait anymore go and quickly download the demo version. Demo version gives you the benefit for evaluating the working process of our software.